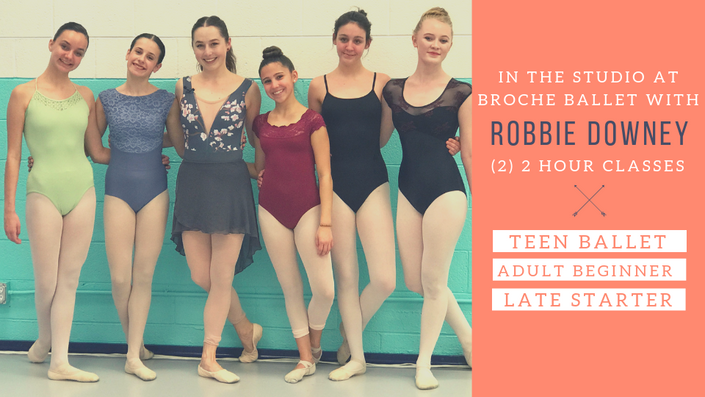 In the Studio: Full Ballet Class with Robbie Downey $27
Two 2 Hour Workshops at Broche Ballet (Teen Group & Adult Beginner)
Two Full Ballet Classes (2 hours each) Inside the Studio For Teens and Adult Beginner / Late Starter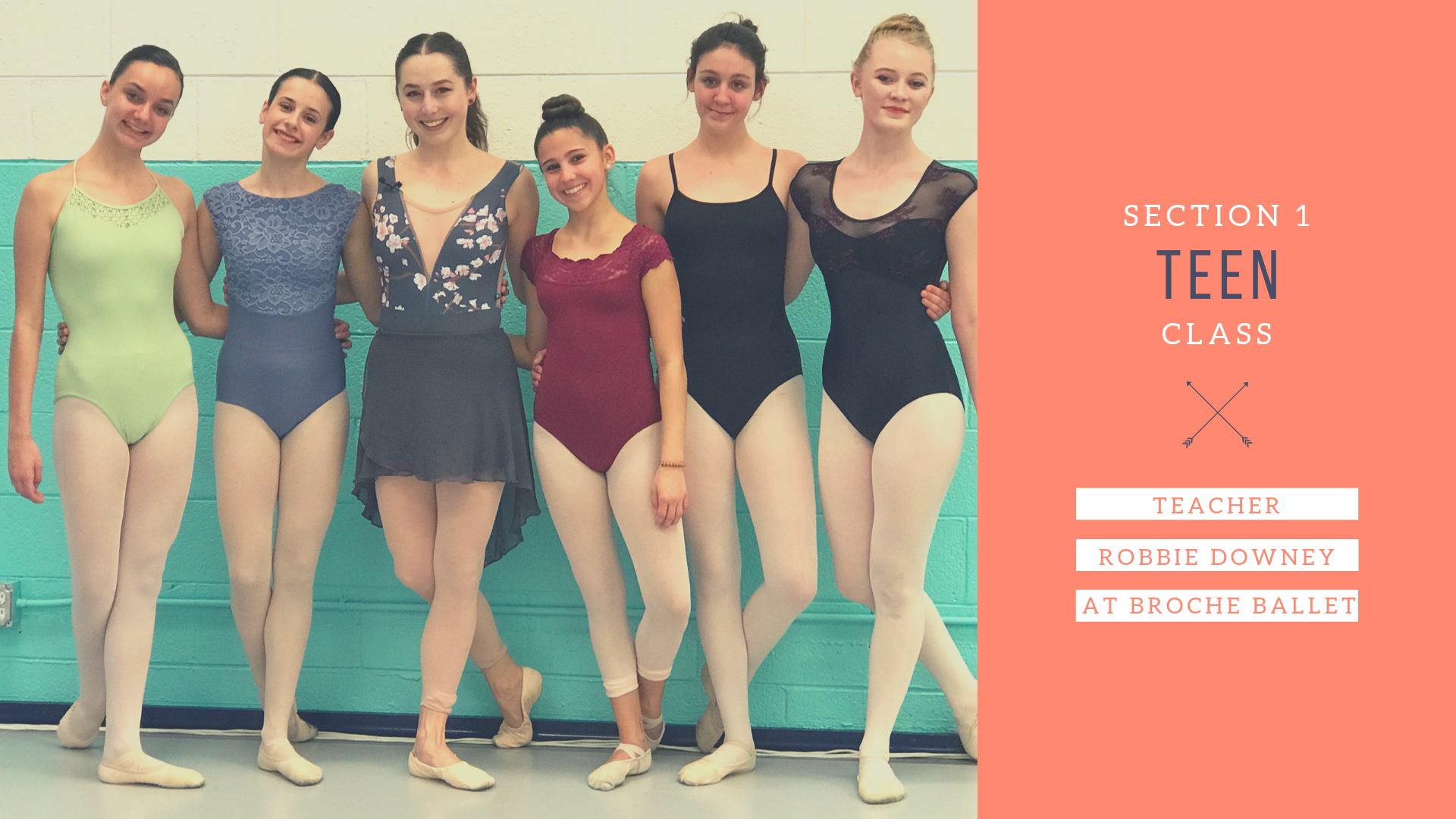 Go inside the Broche Ballet studio in Denver, CO with Robbie Downey. Take in all the corrections and teacher's tips for barre and center. Practice in a studio along with the video or take notes and be prepared for your next class or even your first Adult Beginner class!
A lot of adults or late starter teens are too intimidated to try a class. Together with Broche Ballet we want to help people overcome that so they can enjoy the art of ballet at any age and any level. Dance should be accessible to anyone, anywhere.
This look inside the studio is for teens with prior ballet training AND adult beginners/late starters that aspire to take on ballet as a hobby. It's never too late to start.
The teens in this class are of all levels. You can see they have a background and their focus and passion is there!
We had adults that were brand new and one even took the class with an inner ear issue and her balance was off, but she showed up anyway. We want to encourage everyone to get out of their head and just try it. Stop worrying about what others think and get in the studio and have some fun. The truth is most people are focused on themselves and they aren't looking at you. They are people just like you and nobody is there to judge anyone else.
So pull on those leg warmers and let's go!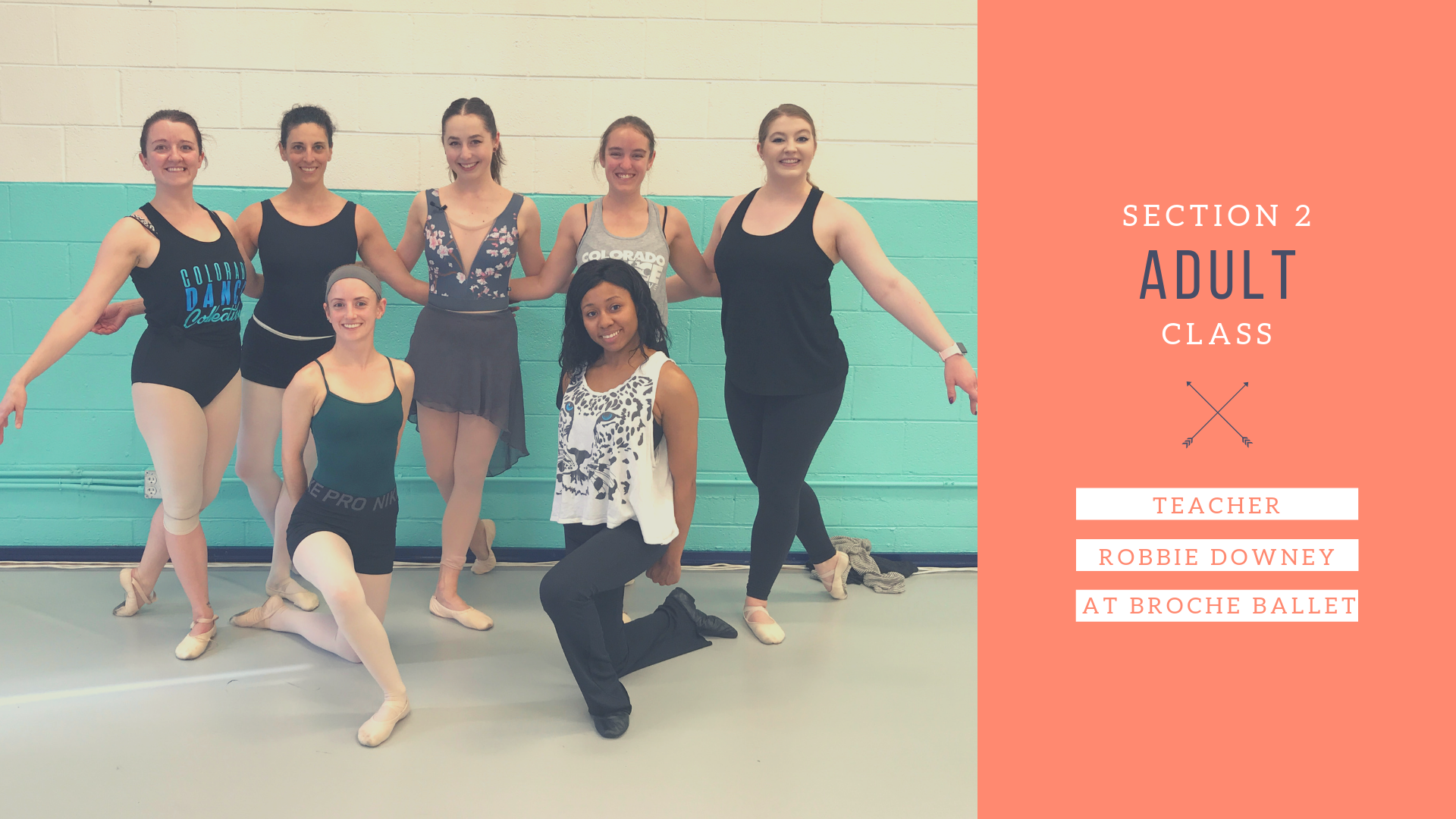 Course Curriculum
Teen Workshop
Available in days
days after you enroll
Adult Workshop
Available in days
days after you enroll
Broche Ballet are adult ballet studios based in Denver, Colorado. It's never too late to start. Stop by for a FREE private lesson today!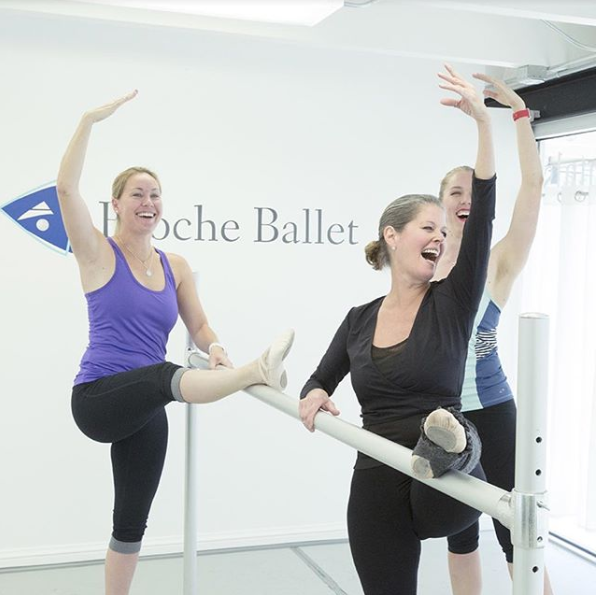 Your Instructor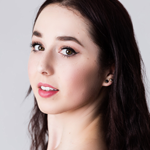 Robbie is currently with Colorado Ballet Studio Company in Denver.
Performance Experience
2019 George Balanchine's Serenade Corps, Carmina Burana Corps (Colorado Ballet MasterWorks)
2018 Snow Corps, Waltz of the Flowers Corps, Party Parent (Colorado Ballet The Nutcracker)
2018 Nymph, Lilac Fairy Attendant, Garland and Mazurka (Colorado Ballet Sleeping Beauty)
2018 Bride's Maid Variation and Black Swan Variation (The Best of Master Ballet at The Orpheum Theatre)
2017 Sugar Plum Fairy, Snow Queen, Waltz Queen, Spanish, Maid, Snow Corps (Phoenix Ballet The Nutcracker)
2017 Etudes and Demi-soloist Paquita Mazurka "Masters and Youth Gala" with Dancers from The Bolshoi (including Maria Alexandrova and Vladislav Lantratov)
2017 Paquita Pas De Trois, String of Thoughts a contemporary ballet by Albert Blaise Cattafi and Central Park Tango by Francisco Gella (Phoenix Ballet)
2016 Snow Queen, Waltz Queen, Arabian, Snow & Waltz Corps, Party Mom (Phoenix Ballet)
2015 Napoli Variation, Pas de Six, Waltz of the Flowers, Offenbach Solo, Odalisque Pas de Trois, Seguidilla from Don Q (Ellison Ballet)
2015 Swan Lake: Odile, Odette variation, Swan Corps and Spanish (Ballet Arte)
2014 Sugar Plum Fairy, Snow Queen, Snow Soloist, Arabian Soloist (Ballet Arte)
2013 Snow Corps. Waltz of Flowers Corps and Mirliton (San Diego Ballet Company and 10 Day Midwest Tour)
2012 Chinese, Snow Corps (San Diego Ballet Company)
2011 Clara (The Nutcracker with San Diego Ballet Company)

Additional Experience
Company productions of Dracula, Alice in Wonderland, and Nutcracker with California Ballet Company. Coppelia with San Diego Ballet School.

Training
Master Ballet Academy Scottsdale, AZ with Slawomir and Irena Wozniak 2016-2018
Ellison Ballet Professional Training Program New York, NY with Edward Ellison and Erin Forrest 2015-2016
Ballet Arte Solana Beach, CA with Sara Viale & Erlends Zieminch 2014-2015
San Diego Academy of Ballet and San Diego Ballet with Maxim Tchernychev 2009-2014
San Diego Ballet Barbara Seibert-Chatelain 2011-2014

Awards
Third Place Senior Category Classical Ballet YAGP San Diego (age 18 - 2017)
Second Place Senior Category Classical Ballet YAGP San Diego (age 16 - 2015)
Semifinalist for the Music Center Spotlight Program in Los Angeles (age 16 - 2015)
Third Place Senior Category Classical Ballet Youth America Grand Prix San Diego (age 15)
Top 12 Contemporary Senior Age Division Youth America Grand Prix San Diego (age 15 & 16)

Galas
USA IBC XI Awards Gala 2018: A Week's Worth of Art with acclaimed choreographer Matthew Neenan and the Mississippi Symphony Orchestra at Thalia Mara Hall in Jackson, MS
Golden Swan Gala 2018: An international affair to remember. Celebrating some of the biggest names in ballet combined with some of the most promising talent coming together for ONE night in Downtown Phoenix at the Orpheum Theatre. Excerpts From: Don Quixote, The Sleeping Beauty, Swan Lake, Flames of Paris, Diane and Acteon, Le Corsaire & More
Masters and Youth 2017 : Ballet dancers from the Bolshoi, including Maria Alexandrova and Vladislav Lantratov, volunteered to come and support the reopening of the amphitheater (Theatron). They shared the stage with young professional dancers, winners of ballet competitions.

Summer Intensives
Master Ballet Academy - Scottsdale, AZ (2017 with scholarship)
Edward Ellison and Erin Forrest - Ellison Ballet New York, NY (2012-2016 with scholarship)
Edward Ellison Pas de Deux - Ellison Ballet New York, NY (2014-2016 with scholarship)
Erin Forrest Variations - Ellison Ballet New York, NY (2012-2013 with scholarship)
American Ballet Theatre NYC (2011 and 2015)

Teaching Experience
Broche Ballet Denver, CO 2018-present
Adaptive Force Performing Arts / Arizona / Ballet Technique 3 Levels ages 6-16 / Choreographer 2017-2018
Head Start / San Diego / Creative Movement 2014-2015

Social Media & Media
youtube.com/mydancetv 50,400+ subscribers and over 26 million views
facebook.com/balletbabble Over 540,000 followers
Instagram @balletfreak 42+ followers
Twitter @balletbabble Over 1,400 followers
Blog: balletbabble.com (over 500k views)
February 2019 Dance Spirit Magazine "So You Think You Need A Website" p42-43 printed edition
May 2017 Home Page Feature lightdrop.org
March 2017 Dance Spirit Magazine Cover Model Search Editor's Choice video winner
Official Gaynor Girl (2015-2016)
Gaynor Minden "Why I love GM" Photo Contest Winner 2015
Dancer's Choice Model Search Winner Fan's Choice 2014
Frequently Asked Questions
When does the course start and finish?
The course starts now and never ends! It is a completely self-paced online course - you decide when you start and when you finish. Watch as many times as you like.
How long do I have access to the course?
You'll have access for the lifetime of the course (even if we stop selling it), for as long as Academy for Dance, LLC is in operation and GUARANTEED access for AT LEAST one year after you enroll regardless! After enrolling, you have unlimited access to this course - across any and all devices you own. Watch it as many times as you like. If you have failed payments on a payment plan for a course this will cause you to be unenrolled.
What if I am unhappy with the course?
We would never want you to be unhappy! If you are unsatisfied with your purchase, contact us in the first 7 days and we will give you a full refund.
Safety and Choosing a Location to Dance
To avoid injury it is critical that you always practice exercises on appropriate flooring with proper support (i.e. studio floors with a ballet barre). Unacceptable flooring includes, but is not limited to carpet, tile, and concrete. Portable dance floors are suitable when placed on a level/flat surface completely away from any items, such as furniture, that you can come in contact with. In a studio is the best way, Suggested footwear are proper and correctly fitted ballet slippers. Common ballet class attire, such as leotards, that allow for range of motion should be worn.