Academy for Dance has teamed up with the top online Belly Dancing course to bring you this special offer... Save $80!
Now ANYONE Can Learn To Belly Dance Easily From Home!Go From Beginner To Expert With
Over 50 Step-By-Step Videos
With Private Coaching That Beats All Other Belly Dancing Classes for

just $47

!
Imagine being able to move your body with grace & confidence like a seasoned belly dancer easily and in a shortest time WITHOUT paying for expensive lessons or getting self-conscious in live classes.
Now you can.. and you can do it from home, in weeks not years without wasting money, time and effort on traditional dancing schools.

BellyDancingCourse "Masterclass" system is very simple...
The entire program consists of over 50 videos with a total runtime of 8 hours, systematically teaching all major types of bellydance steps and combinations that leaves nothing to the imagination. It's the most jam-packed and intensive belly dancing course you'll ever experience.

50 videos with a total running time of 8 hours of in-depth lessons
Step-by-step bellydance instruction program presented in an easy-to-follow format
3 different teachers covering 5 major styles of belly dancing.
Suitable for BOTH beginners and seasoned dancers.
Learn over 40 isolated body movements, each visually demonstrated and verbally described, with on-screen visual aids.
All basic moves are covered in the first 2 hours so you will be up and running quickly.
Clearly see all movements from multiple viewing angles, including full-body & up-close views. Then perform fluid combinations of the moves you've learned!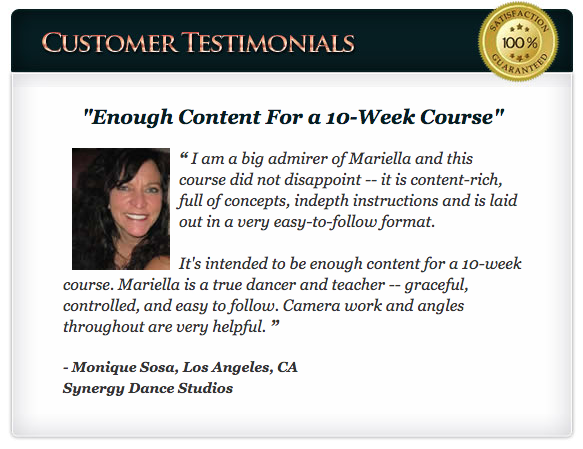 It is the nearest you will get to one-on-one training! By learning belly dancing on videos, it's like having a FREE private tutor at home for life!
More importantly, because the program includes 3 teachers, 5 dance styles, 8 hours of step-by-step videos + private coaching, you won't find any other program as effective as this one anywhere else.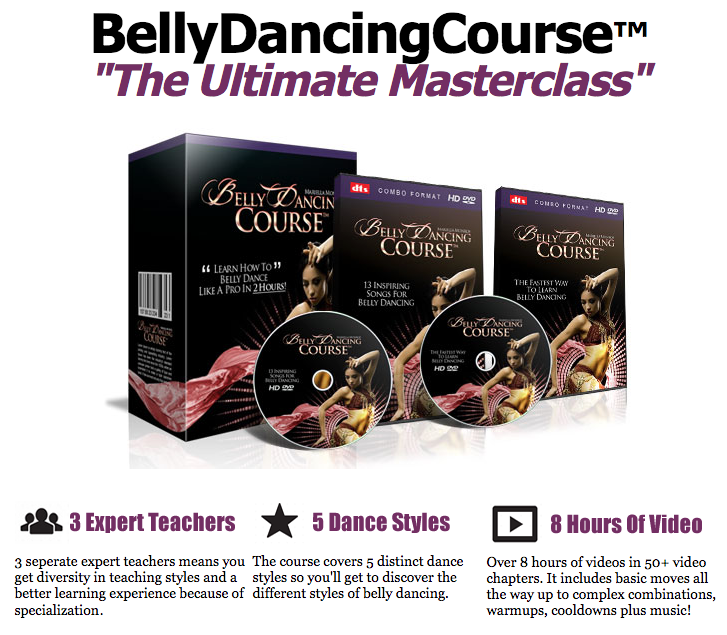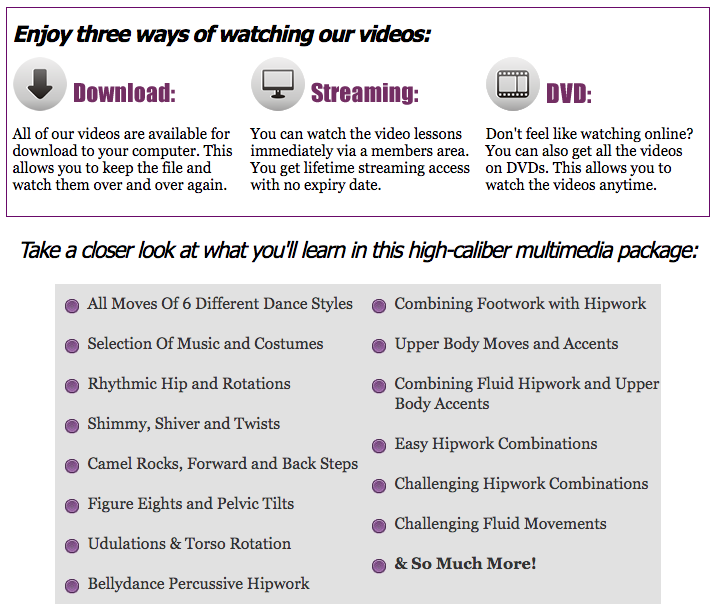 Your Instructor

Mariella is a professional belly dancer and dance instructor. She has been dancing professionally for over 18 years and has performed all over the world. She is also a regular contributor to various dancing magazines and other publications.
She currently resides in Sacramento California with her husband and 2 lovely boys, Jaden and Jackson. In addition to dancing and teaching, in her off-hours, Mariella enjoys baking, tennis and mountain hiking.
Frequently Asked Questions
What is included in the entire package?
BellyDancingCourse "The Ultimate Masterclass" contains over 50 step-by-step videos, 8 hours of no-fluff, easy to follow instructions, 1 hour of music rhythms, time-limited bonuses, FREE updates for life plus one-on-one skype/email coaching sessions!
Is it suitable for beginners?
Absolutely. The entire course is perfect for beginners or more seasoned dancers looking for a review of technique. Every segment and move is broken down into parts for easy learning with advanced combination movement at the end of each video for seasoned dancers.
How is this different from other courses?
BellyDancingCourse is by far the most comprehensive all-in-one course out there. It covers 5 different styles with 3 seperate teachers. With the exclusive one-on-one skype/email coaching, you're never left alone with your questions. None of the courses available online offers such interactivity.
How do I get access to the videos? Is there a time-limit to view them?
You get UNLIMITED LIFE-TIME access. You get lifetime access to the members area with no limit to viewing. You can also download all the videos and get the DVD edition shipped to your door.
Are there any hidden or recurring charges?
No. This is a single ONE-TIME payment. There are no "hidden" or recurring charges EVER.
Do you offer it in a physical edition?
Yes, we do offer a physical DVD edition containing all the videos. You can opt for it in the members area. We ship worldwide!
What regions/zones does the DVDs belong to?
The DVDs are region-free and can be played in all zones.
Do you offer a money-back guarantee?
Yes. BellyDancingCourse is supported by a full 60 days money back guarantee. Try the course yourself. Take your time to watch the videos. Once you have viewed all the videos, I'm confident that you'll NEVER want to send it back! But, if you aren't satisfied for any reason, or it doesn't live up to your expectations, you won't be out one red cent. Just send an email and Mariella will refund your payment. Right up to the final day of this 60 day guarantee.
How can I be sure this isn't a scam?
BellyDancingCourse has been trading on the internet through this site for years. We are an established company with lots of trained staff happy to assist you with your questions. We stand by the integrity and quality of our product, and this is further supported by our 60-day moneyback guarantee.
PAYMENT & ORDER ISSUES:
For more FAQ addressing these issues please go here. http://www.bellydancingcourse.com/contactfaq.htm
Do I log in to Academy for Dance to access this course?
No, you will access your Belly Dancing course via http://www.bellydancingcourse.com. Instructions are provided by them upon enrollment. There is a 60 day money back guarantee. This special offer is provided for our students that may be interested in learning belly dancing from home. A support ticket can be opened via http://bellydancingcourse.com/contactform/
I need support/help on this course...
If you have purchased this course and need support please visit http://bellydancingcourse.com/contactform/ to create a support ticket. Prior to purchase feel free to contact us at Academy for Dance using the link in our menu.